My twin sister and I in 1972.

My mom and her twin brother in 1948.

My mom is in town visiting while the kids are on fall break from school. It is great to have her here. She has been helping me so much.  
My mom has a twin brother. She was first born and is older by three minutes. 
I know how important these three minutes are because I am also a twin.  I have an identical twin sister and I beat her into the world by two minutes.  I  reminded her throughout our childhood that I was the older sister. 
Anyway, we have a lot of twins running through our family. I always wanted to have twins, or at least maybe hoped that one of my siblings might have them. No such luck. I guess since my mom was a twin and then had twins, we were the generation to skip.
In honor of my mom, I salute the twin experience.  It was so fun and zany growing up and I can't really imagine life as a singleton without my partner in crime.  
Through the years, people have mixed us up, called us the wrong names and asked us funny questions about being twins. 
My favorite recurring question has got to be, "How do you tell yourselves apart?"  
My grandmother always told us not to look in the mirror at the same time because one of us might be disappointed.  We thought this was so funny and we would turn to each other when we were getting ready and brushing our hair and say, "Are you disappointed?"
My mom didn't know she was pregnant with twins and she kept telling the doctor that this baby has too many arms and legs, but the doctor assured her that what she was feeling was normal. When we were born, the story goes that the last thing my mom remembers hearing was the doctor saying, "Oh my god there is another one," before she passed out. That was our grand entry into the world, me two minutes ahead of my "younger sister!"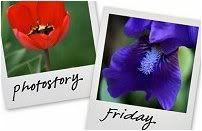 Hosted by Cecily and MamaGeek