I love this Native American Storyteller. My mother-in-law gave it to me a few years ago. It honors the oral tradition of storytelling. My kids love to look at it and name which child they are in the storyteller's lap.

Storytellin' at our house

My kids all love books and I love the quiet moments before bed when we can read and laugh together!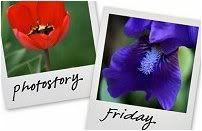 Hosted by Cecily and MamaGeek