The Special Roses!

Hanging Out with the Teach!

Watch Me Slide!

Say Cheese!

Just Me and My Teacher!
In our school district, the teachers visit each student at home one time during the school year.
We are on a year round schedule and my kid's have been out of school for three weeks for Fall Break. My kindergartner's teacher came to visit one afternoon last week during the break. 

Storytellin' Boy showed her all of his treasures on his dresser, they shared a snack of chocolate cake, they played Legos together, and she toured the backyard and watched him and his brothers and sisters play on the swings and slide.
The visit was a great success. All of my kids enjoyed meeting her. She brought a bag full of books and my son picked one about a baby penguin for his very own.
As she was about to leave, my son ran and took a long pink rose out of a vase on the table and gave it to her.  
"This is for you to remember our special visit," he told her.   
Awww...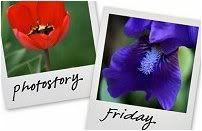 Hosted by Cecily and MamaGeek